The Town of Pawleys Island
Known as the "original beach vacation," the town of Pawleys Island is one of America's oldest and most alluring summer resort communities. Escape from a frantic pace of life in this idyllic small town just 35 minutes south of Myrtle Beach and explore centuries-old homes, relax in a world-famous Pawleys Island
Rope Hammock
along the undeveloped beaches, and celebrate lowcountry heritage downtown.
Dozens of boutique shops line the shabby-chic streets of old-fashioned cottages and if you're craving seafood after a day out and about with the family, every restaurant offers sensational, mouthwatering seafood dishes. Made up of mostly vacation rentals and a few oceanfront condos, Pawleys Island is a peaceful, coastal community offering dozens of family-friendly outdoor activities to experience.
Explore the Ocean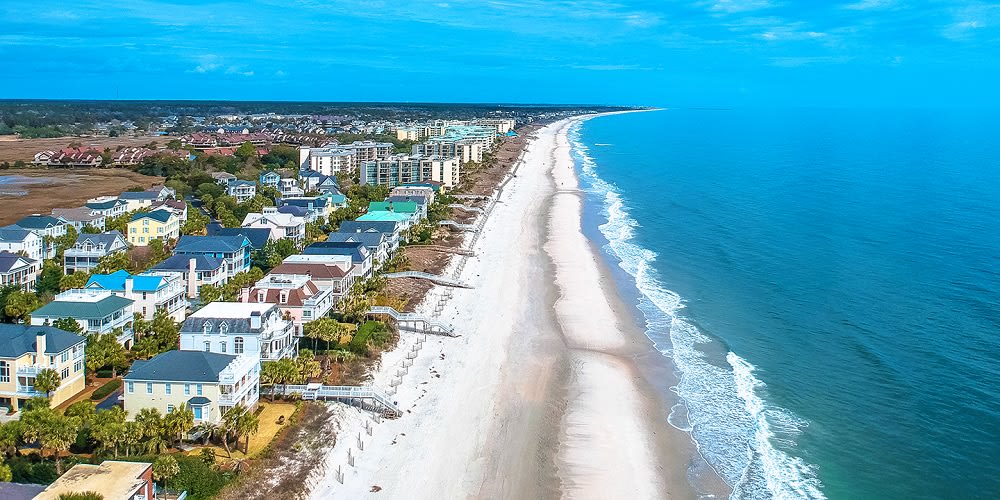 Renowned for its serene natural wonders, the beaches of Pawleys Island are like something out of a movie.
Litchfield Beach
, in particular, is a local favorite destination for sunbathing and spending the day out on the water. The laid-back atmosphere of the Pawleys Island beaches encourages tourists and residents to get out on the water and experience the best of South Carolina living. Walk along the miles of pristine shoreline for a seashell scavenger hunt, rent a kayak or paddleboard from a local shop to explore the inlets along the coast, and take up surfing.
Learn from the best at
Surf the Earth
, a Pawleys Island surf staple since 1990. Rent equipment, sign up for surfing lessons, shop the apparel, and schedule an
eco-tour
during the summer months for the ultimate Pawleys Island experience. Offering "high-fives and hospitality" for the last 30 years, Surf the Earth is the local favorite spot for water-based excursions, surfing tips, and friendly faces.
If you prefer to spend the day on a boat with your family, consider booking a fishing charter with
Carolina Guide Service
. Perfect for all skill levels, Carolina Guides make your fishing adventures memorable and include light-tackle and fly-fishing for saltwater species along the bay, inlets, and near-shore reefs with certified Capt. Jordan Pate, USCG Captain, and Pawleys Island native.
Traipse Through the Wild
Huntington Beach State Park
offers three miles of pristine coastline for swimming, running, fishing, and relaxing and 173 campsites, most with water and electrical hookups. Over 300 species of birds have been spotted within the grounds of Huntington and the park is dog-friendly, making it the perfect place for the entire family to visit! Explore the grounds of
Atalaya Castle
to learn more about the origins of this 1930s retreat, spot an alligator (from a distance) along the causeway, and take part in one of the many hands-on Coastal Exploration Program events held throughout the year.
Near Huntington Beach State Park is
The Murrells Inlet MarshWalk
, a dynamic and vibrant restaurant spot with beautiful views and live music. Known as the "Seafood Capital of South Carolina," the local cuisine along the MarshWalk is unbeatable and with a backdrop of southern sunsets each evening, the views also go unparalleled. Offering stunning table-side views and opportunities to explore the water by paddleboard, jet ski, or parasail, The Murrells Inlet MarshWalk sits on just a half-mile of wooden boardwalk along the coast, but it's everyone's favorite spot for the best food and views near Pawleys Island.
If you're looking for an outdoor cultural experience for the whole family, visit
Brookgreen Gardens
, a unique community center bringing art, nature, and history to the Myrtle Beach area. Founded in 1931, Brookgreen Gardens is an accredited member of the American Alliance of Museums and the Association of Zoos and Aquariums and also recognized as a National Historic Landmark listed on the National Register of Historic Places. The Gardens offer tours and exhibits for all ages, year-round, and features dozens of opportunities to browse the unique botanical wonders, learn a bit of lowcountry history, and visit a few animals in the zoo.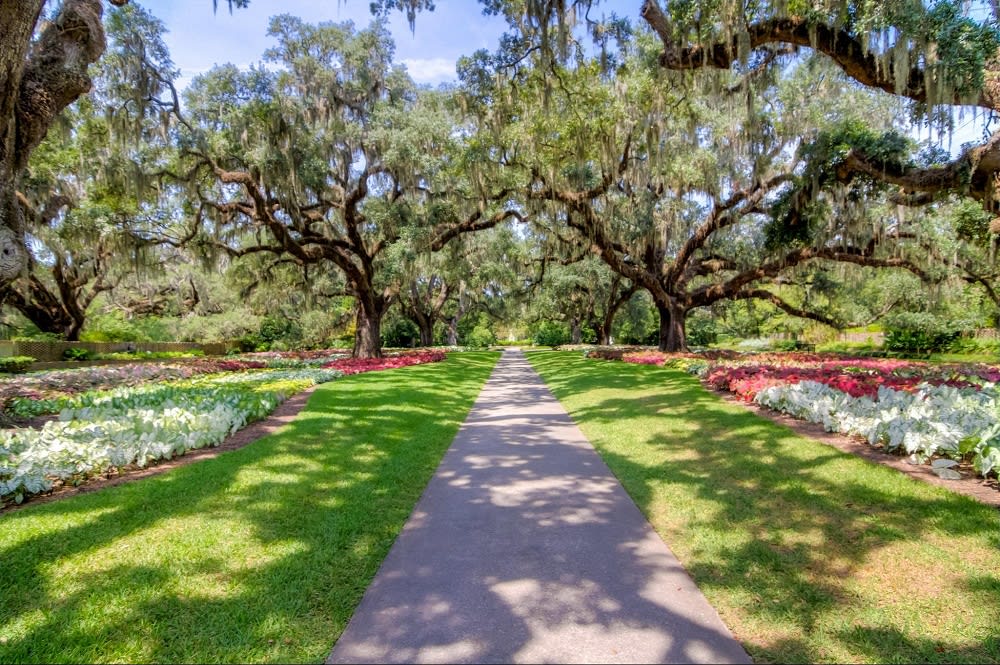 Credit: POPSUGAR
Historic Tours and Quick Bites
Located 15 minutes south of Pawleys Island is
Historic Georgetown
, a popular destination for Pawleys Island residents and tourists. Offering an abundance of museums, attractions, and the area's largest port, Georgetown was founded in 1729 and is teeming with unique coastal history. Enjoy the
Georgetown Harborwalk
along the water for some of the best views, restaurants, and natural beauty of the area. The Harborwalk features Kaminski House, the Rice Museum, and the South Carolina Maritime Museum along its path and is home to the
Georgetown Lantern Tours
— adding a touch of whimsy and spine-chilling tales of local ghosts and legends to the community.
Stroll through the
historic district
of Pawleys Island on the mainland for a tour of some of the oldest homes in the South. While you take in the history, plan a visit to
Chester's Pit Stop
for the best hotdogs around. Located between Pawleys Island and Litchfield, this tiny outdoor shack offers New Jersey sausage hot dogs topped with your choice of homemade chili, sauteed onions, roasted red peppers, coleslaw, garlic relish, sauerkraut, and banana peppers. They also serve fried flounder and shrimp and have outdoor only seating in a roadside picnic area.
Head to Litchfield to enjoy
Pawleys Island Creamery
, another favorite destination for the best homemade ice cream. With time-tested recipes and superior ice cream-making techniques, Pawleys Island Creamery offers quality ingredients in over 30 flavors for sundaes, milkshakes, malts, floats, and banana splits. Pawleys Island Creamery also provides dairy-free options, so bring the whole family to experience a Pawleys Island tradition!
Take a Tour
Explore Pawleys Island like a local and book a tour of the impressive inlets, creeks, and coastlines.
Black River Outdoor Center
is the number one destination for kayak rentals and tours and fishing gear. Choose your destination in the Salt Marsh or Cypress Swamp and strap in for a visually stunning excursion. If you're looking to bring the family on a boat tour, head to historic Georgetown for a lighthouse cruise on a 40-foot pontoon boat. The lighthouse cruise at
Rover Boat Tours
explores the waters by the Georgetown Lighthouse, the oldest lighthouse in South Carolina. Keep an eye out for bald eagles and sea turtles after you disembark — this area is well known for sightings of these elusive animals!
Another popular activity is the
Blue Wave Adventure Dolphin Tours
which runs through Murrells Inlet along the Atlantic Ocean. Blue Wave offers four different tour options: Tursi-ops dolphin cruise offers charter for private parties, Osprey Premium, which puts guests in inflatable tubes in the water near the dolphins, and the Osprey private charter. Families can choose their comfort level for the best viewing experience and take to the water for an exciting early morning outdoor activity.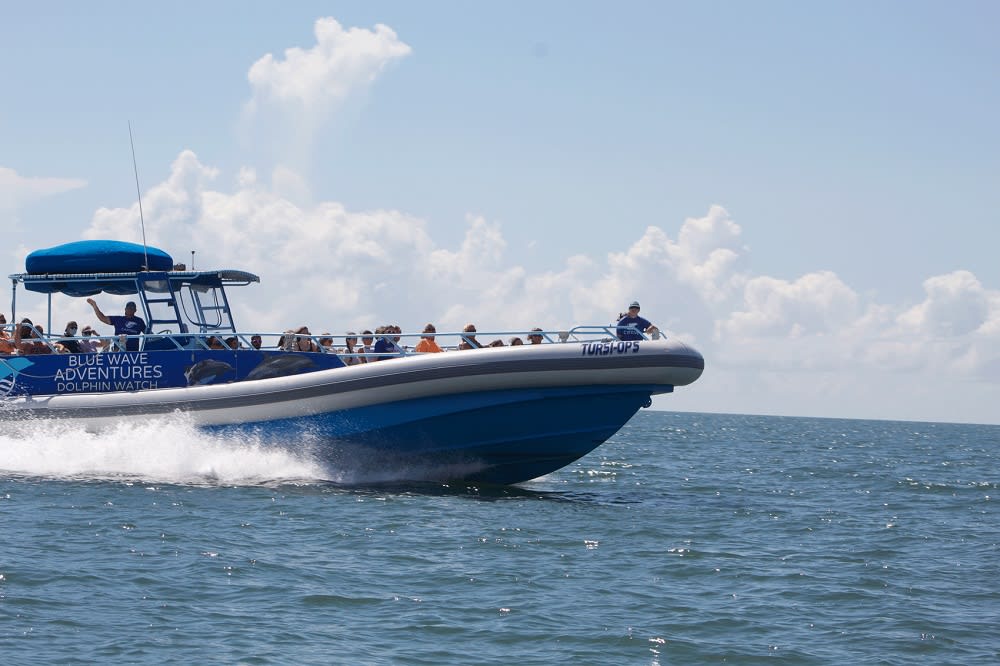 Credit: Blue Wave Adventure Dolphin Tours
Martin Phillips knows that marketing and managing any real estate transaction can be overwhelming. Martin, his wife Anne, and their support staff use their experience and knowledge to provide an unbiased evaluation and configuration of strategies to meet your unique vision. Specializing in the sale of luxury homes in Litchfield and the surrounding neighborhoods,
Contact
Martin Philip Properties today to get started on your real estate journey in Pawleys Island!