Charleston is a beautiful port city, defined by its cobblestone streets, horse-drawn carriages, and pastel antebellum homes. Life in Charleston is a dream come true for many southerners, and when it gets hot and humid, locals take to the water.

There's a long list of sun-drenched beaches near Charleston, suitable for everything from swimming and surfing to sunbathing, shelling, and treasure hunting. Before you visit, read this list of the best beaches to cool off.


Folly Beach
The closest beach to downtown Charleston, Folly Beach is a favorite amongst surfers, anglers, families, and laid-back beachgoers. Tourists and locals love the city of Folly Beach for its excellent pier and surf fishing, its wide selection of restaurants and bars, live entertainment, and some of the best surf on the east coast. Folly Beach also boasts six miles of sandy beaches great for lounging, fishing, biking, kayaking, and making sandcastles with your little ones. The sunsets are sublime, so have your smartphone ready to snap some shots. Be sure to stop by on February 26, 2022, for Folly Beach's longest-running jubilation, the Sea & Sand Festival.


Sullivan's Island Beach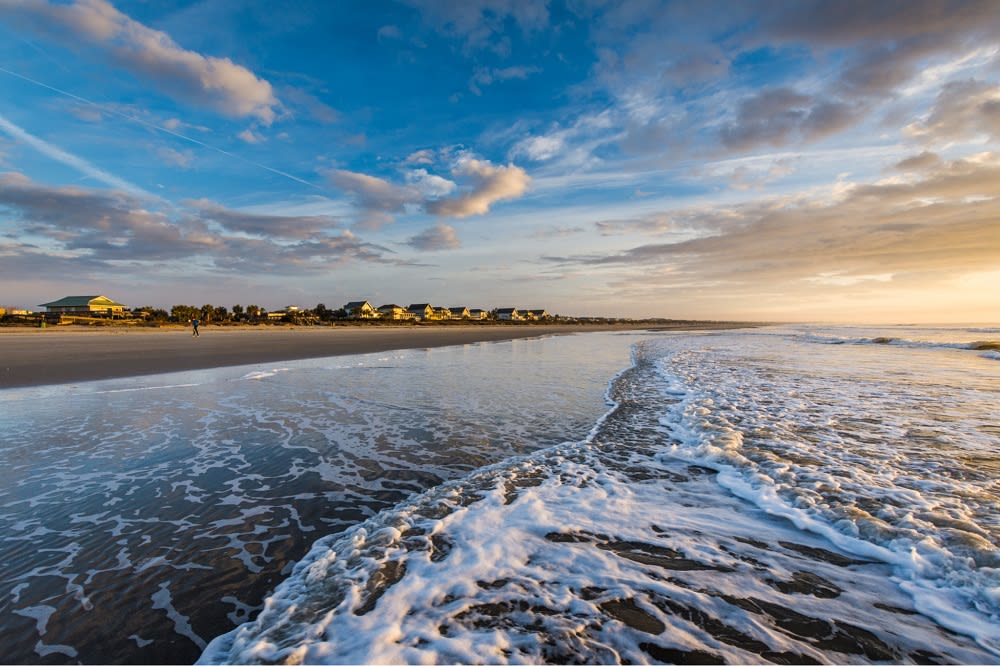 Credit: Christian Hinkle

Sullivan's Island Beach offers 2.5 miles of dog-friendly Atlantic Ocean water frontage. To the west, it's bordered by the mouth of Charleston Harbor, with the Intracoastal Waterway to the north, and Breach Inlet to the east. What this quaint beach lacks in size, it makes up for in beauty and charm. Common pastimes at Sullivan's include paddleboarding, sailing, fishing, kiteboarding, kayaking, and photography. Life moves slower on Sullivan's Island, making this beachfront the ideal destination for your inner beach bum to lather on some sunscreen, bask in the sunshine, and let life's stresses wash away with the waves.


Isle of Palms County Park
Offering stunning ocean frontage with lifeguards on duty seasonally, Isle of Palms County Park offers an array of amenities. People flock to Isle of Palms beach with their families to enjoy a lovely day filled with sand volleyball, splashing in the water, and grilling or picnicking under the sun. Kids romp around the playground while their parents look on and even out their tans. Once you get looking for something to eat, head to a snack cart for beverages, ice cream, and other treats. If you forget anything at home, you can rent beach chairs for lounging and umbrellas to get some shade from the hot sun. Cast your line in the surf to snag some fish in the morning, and then enjoy a long day of fun at Isle of Palms County Park.


Pelican Beach
Seabrook Island has two beaches: Pelican Beach and North Beach. Both offer views, sunshine, and long hours of recreation. The breathtaking sunsets of Pelican Beach make a great opportunity for photographers, and the beach is beloved by young children and families. The Atlantic Ocean meets the Edisto River near the beach, boasting soft waves and gentle currents ideal for introducing the kids to the water. Pelican Beach is a good bet for swimming, sunbathing, and building sandcastles.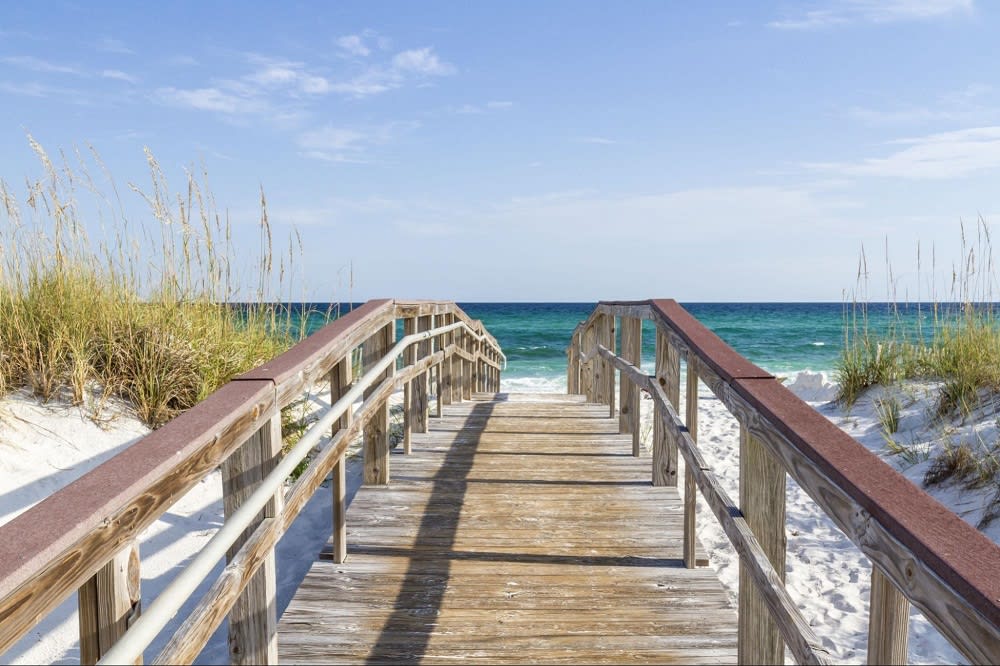 North Beach
North Beach is geared towards active families and nature enthusiasts. In addition to being open for walking, biking, and passive beach-going activity, North Beach is one of the few beaches in South Carolina that offers horseback riding. You can spot dolphins, turtles, native birds, and more, making it perfect for wildlife lovers to see animals in their natural habitat. North Beach is the first place the sunlight touches in the town of Seabrook, so the sunrises are always phenomenal. Dogs are allowed off-leash in designated areas throughout the year. North Beach is an excellent spot for bird watching or spotting dolphins in the early morning hours.


Boneyard Beach
Situated on the northern end of Bull Island, Boneyard Beach is one of South Carolina's best-kept secrets. Bull Island offers seven miles of shoreline ideal for photo-ops and sunbathing. An unusual sight, Boneyard Beach houses the remains of a water-stranded forest and a field of driftwood. Many shells wash ashore here, making Boneyard Beach an exceptional location for shell hunters. If you're looking for a tranquil stretch of waterfront to sit with your thoughts, view wildlife, and relax, Boneyard Beach is a must-see.


Pawleys Island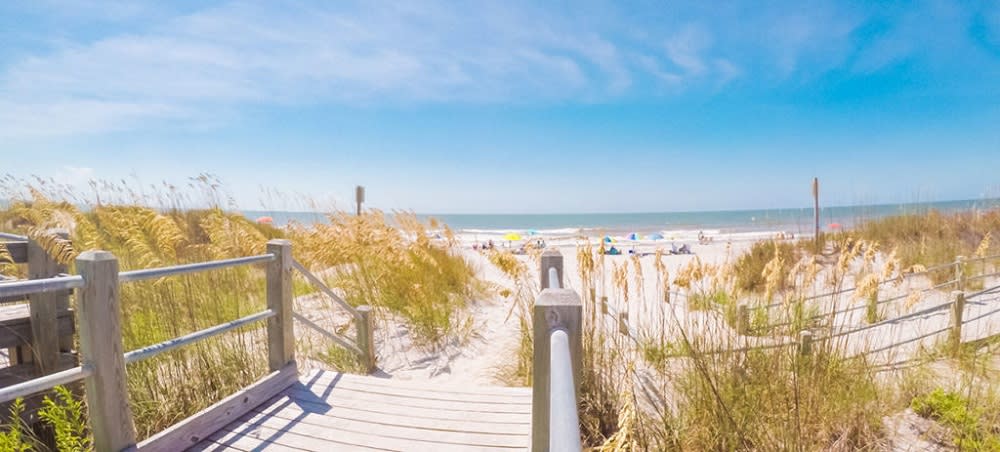 Credit: Town of Pawleys Island

When Charleston residents are looking to take a day trip just far enough to feel like a mini-vacation, they head to Pawleys Island. Home to the largest free public beach in Georgetown County, Pawleys Island is the perfect location for some rest and relaxation. This waterfront town is known for its dunes, beaches, and both fresh and saltwater fishing. Feel free to bring a tent to camp out on the sand for the day, bring beach chairs for lounging, and your surfboard to catch some swells. Head to Pawleys Island Nature Park for some reflection at landscaped gardens, and enjoy the small pavilion's benches. You're sure to have a peaceful day on Pawleys Island.


Litchfield by the Sea
Just north of Pawleys Island lies Litchfield Beach. Litchfield is much more than a sandy beach: it's a town teeming with fine dining opportunities, world-class golf courses, and a slow, luxurious pace of life. The premier beach area here is Litchfield by the Sea. With an array of condo complexes and beach home communities, there's plenty of shoreline to explore in Litchfield by the Sea. The pristine communities of Litchfield Beach are known for their aesthetic appeal, quiet charm, and exclusive clubs. Whether you aim to revel in a fun beach day or stay in one of the world-class accommodations, Litchfield Beach is definitely worth visiting.


Searching for Charleston waterfront homes for sale?
If you're hunting for the best luxury listings, market analysis, and customer service in the Charleston real estate market, contact Martin Phillip Properties to be your guide.